« October 2001 | Main | December 2001 »
---
November 20, 2001
[last night i felt ill...]
Last night I felt ill. I wanted to fall asleep early, so I decided to self-medicate with some wonderful wine called Bainbridge Rosé. I think it's from Nissley (who seem to be having web site troubles). I started my binge around 7:30, watching an episode of Fashion Emergency in which a woman meets her birth mother. The woman, her birth mother, and the birth mother's two other daughters all got makeovers. Neither the woman nor her birth mother expected each other to look the way they did. I sensed mild disappointment. Between gulps of wine, I cut foam core into panels and covered the panels in fabric, the results of which I will soon velcro to my kitchen wall.
I didn't even drink the whole bottle. Nonetheless, by 10 PM, I was feeling more out of it than ever before. A sense of fuzzy disparateness with the rest of matter soon turned into being plain, all-out dizzy and agitated.
Around 11:30, I called Greg, because I figured he's had experience with this sort of thing. He told me I wouldn't puke, because it had been so long since I'd stopped drinking and hadn't puked yet. I asked him when I would stop getting dizzy when I closed my eyes, and he said to close them anyway so I could sleep the dizziness off. That wasn't an option, I said. But then I stopped talking, and my eyes did close, and a few minutes later I remembered I was on the phone and said, "Greggy?" to see if he was still there. He was. Then it happened again, and then I decided to bid him adieu and try to sleep.
At 5:30 AM, I felt relaxed and stable enough to relinquish my tie to wakefulness. Someday soon, I plan to get a good night's sleep. I really need one. When I'm tired, I lie on the couch and succumb to television, and there is so much stuff not getting done in favor of this sluggish behavior.

File under DAILY. Posted at 12:00 AM



---
November 10, 2001
[i have been very productive...]
I have been very productive today because I am avoiding painting. We are supposed to paint a landscape scene, and I just seem incapable of this.
Things I have accomplished today:

File under DAILY. Posted at 12:00 AM



---
November 01, 2001
[at right: just a taste...]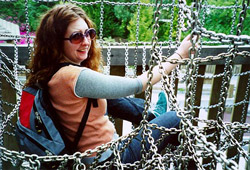 At right: just a taste of the entertainment you'll enjoy once I finish the Denmark journal!
Does anyone want to be my roommate? Do I want a roommate?
I saw one of my friends naked last night. It was not an accident. She posed for my painting class, because the instructor's trusty model was not so trusty, and he could not find anyone else.

It is not so weird to see your friend naked, or at least, it wasn't for me. The setting was such that she became a thing to paint, rather than a person exposed. Maybe that's admitting objectification, but when you're trying to figure out how to go about capturing something in front of you realistically on a canvas, you sort of have to break it (or him or her) down into lines and spots of color. Only the good painters have to worry about capturing personality, too. I'm not there yet.
But all this isn't to say that it would have been superweird to see my friend naked if it was not in an artistic context. It's just not something I am accustomed to.

File under DAILY. Posted at 12:00 PM