« May 2005 | Main | July 2005 »
---
June 26, 2005
skirting the issue?
All of my regular clothing retailers (you know, H&M, Urban Outfitters... I'm suddenly embarrassed to admit where I shop, because I feel pressured to perpetuate the myth that I, through different facets of my personality, spawned my own wardrobe—or at least that I buy my clothes in places that don't appear in every mall everywhere and and don't target people younger than me) want me to look like a gypsy this summer, or an exotic peasant, or just a regular peasant. I'm talking about the skirts everybody's peasanting it up in. Even if some of the designs on them are pretty, I have an instinctive urge to boycott these skirts. I'm tired of looking at all those tiers, and I'm annoyed that so few reasonably-priced options are being presented in the face of the gypsy onslaught. I mean, okay, J. Crew has some nice skirts, but check out these prices: Beaded leaf linen skirt – $795.00(!). Sequined linen skirt (I would actually want this one) – $130.00.
I will admit that when I saw one of the peasant skirts in a late winter Victoria's Secret catalog I got excited because I'd forgotten skirts could be like that. (But I do still remember that skirts don't HAVE to be like that.)
I will also admit that I own one of these skirts—I bought it during an April "I wish it were summer" shopping spree for $16—but I have never worn it outside, because when I put it on I seriously feel like I'm wearing a costume and should dig out the tap shoes.
If you're reading this and you own or are wearing a gypsy skirt right now, well, I think that's fine. In truth, I am only upset about my own lack of creativity.

File under DAILY. Posted at 11:28 PM | Comments (2112)



---
June 15, 2005
running for the human race
Before this past Saturday, I had never jogged. I've run "for real" a few times, sure, for elementary school basketball practice and gym class sprints. I remember running at track and field day, trailing behind the pack with the other slow kids. (Interestingly, the other slow runners were also the kids who were my friends. I remember once, in sixth grade, trying to divorce these friends—who were considered losers by the rest of our classmates—by asking the "middle group" [one notch down from the "cool group"] if I could hang out with them. It backfired in every way imaginable. The middle group, made up of girls I'd been friends with in first through fourth grades, hesitantly agreed to let me stand near them at lunch recess. I soon realized it wasn't going to work out. My real friends, the slow runners, were very angry, and I had to beg them to take me back, even though I didn't really want to be around them.)
I am still a slow runner. At the track down the street, everyone but the walkers passes me—or so it seems, at least. It's humbling yet inspiring to see people who are twenty years older than me outrun and outlast me. And it's especially cool to think about how my body is gradually adapting to what I'm asking it to do.
I should note that everyone makes fun of me when I run across the street to avoid oncoming traffic because I flail my arms about. I want you all to know that I don't do this when I jog. I might be slow, but I don't look like a doofus!

File under DAILY. Posted at 10:22 PM | Comments (8)



---
June 09, 2005
kleenex's response
Dear Beth,
Thanks for your e-mail about KLEENEX® facial tissue.
We appreciate your taking the time to share your thoughts about the
artwork found on our cartons. You may be interested to know that we have had many comments from consumers over the years asking for specific artwork or colors. In fact, this brought about some of the masculine and seashore themed cartons -- special cartons in our KLEENEX® EXPRESSIONS® facial tissue product line called Golfer, Brookie (trout), New York, Seashells, Nautical, Pheasants, and more. To maintain our competitive lead in the facial tissue category, we change the package artwork on KLEENEX EXPRESSIONS tissue about every 12-18 months. New ones are added, old ones are dropped. Nevertheless, because our research team regularly evaluates our packaging artwork, different designs more to your liking will provided some time in the future.
Each of our businesses has a Design Center team dedicated to creating and renewing innovative package designs for our products. All new packaging and package graphics are created in-house and use a variety of artists, marketing specialists, advertising professionals, media consultants, packaging engineers, lithographers, trend analysts, animators, color technicians, and other specialists. They design and implement all our new packaging, keeping in mind our key objectives: strategy, innovation, production, technology, shelf impact and global scope.
Thanks again for sharing your thoughts with us.
Jean
Consumer Services
Kimberly-Clark Corp.

Animators, huh. Animated tissue boxes would be pretty awesome. Or maybe really annoying.
Well, we'll see whether new designs to my liking really "will provided some time in the future." I bet they say that to all the girls.

File under DAILY. Posted at 09:40 AM | Comments (5)



---
June 05, 2005
letter to kleenex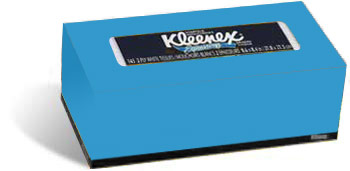 a rough mockup




Okay, I have been thinking about the design of Kleenex boxes for over two years now, and the degeneration of my last post into linking to my current box of tissues convinced me to do something about it, so I just now wrote this letter to Kleenex:
Dear Kleenex,

I applaud your efforts to brighten the homes of Kleenex users with your Kleenex Expressions box designs.

I would like to propose a new idea in this vein. Kleenex users in the younger, urban, design-conscious demographic (generally, 20 to 40 year olds) would like to see box designs that complement that of their contemporary home interiors. We find that the current selections (including the recent "contemporary art" design) do not fit the styles of our homes.

The design approach that should be taken to satisfy these customers is one where simplicity--even what you might consider "plainness"-- is emphasized. If Kleenex boxes came in solid colors (colors such as turquoise, red, yellow, medium gray), you would gain the business of customers who are now buying the more subtly packaged store-brand tissues.

Please feel free to contact me if you would like to discuss this idea further.

Regards,
Beth Sullivan
Graphic Designer

I'll let you know if they respond. But seriously, I would love to have a red box of tissues in my kitchen, a blue one in my living room, and so on. It would make the practice of nose blowing (and, in my case lately, hacking) more modern and less countrified. I'm kind of joking and kind of not.
I feel strongly that everyday objects should be as aesthetically pleasing as possible, and recent trends show that more effort is being made to do this. I think Kleenex is trying to do it with their Expressions designs, and I sincerely do applaud them for it, but they're missing a big chunk of their consumers.

File under DAILY. Posted at 07:48 PM | Comments (6197)



---
the most terrible thing ever
I've been sick with some kind of stupid cold-type virus since last Monday. On Thursday, just as I was starting to feel and act like it was just about over, it came back with a mean punch that hit me square in the jugular. That is to say, I have a sore throat so bad that yesterday I ate five popsicles and little else. Today I had three popsicles, a beer, half a fruit salad, and an ice cream sandwich. I wouldn't have had the beer except it was free with brunch, which I enjoyed (in all but the eating sense) with my Dad, who was visiting to do the Tour de Brooklyn with my brother.
I haven't been able to sleep much, because reclining means swallowing, which means frequent, intense pain. I dreamt on Friday night that I was building a web site for an annoying client I've been working with lately. Each piece of pain from my swallowing was supposed to go on a page of the site. In the dream I made notes on pieces of paper that would then disappear: "This goes on About"; "New Page in Contact section."
I'm not looking for sympathy or for anyone to tell me to go to the doctor(, Mom). If I still feel tomorrow the way I do today, I'm walking to the "no appointments needed" place down the street. I already got all the sympathy I need from Andy, who acknowledged that my cold is the most terrible thing ever. He also told me about how people used to be killed in iron maidens.
I realized, though, that when I'm feeling well, I have a hard time empathizing with those who are not. It's just so difficult to recall the physical sensations of illness; I can easily bring up the frustration and anger I have with the condition of being sick, but I can't make my body imitate physical symptoms. This handicap is beneficial to humans, I think.
Well, I was going to say more, but the couch and my box of Kleenex Expressions (Lavender Fields) beckons.

File under DAILY. Posted at 07:09 PM



---
June 01, 2005
properly attired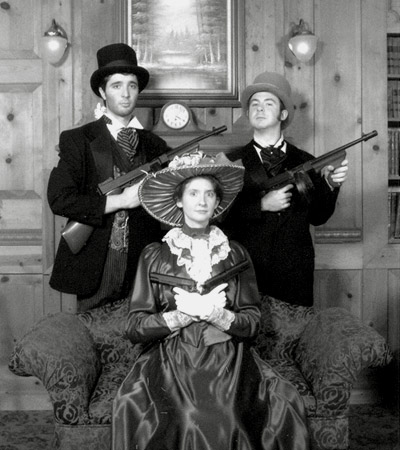 Ah, the olden days!


File under STUFF I DID. Posted at 01:48 PM | Comments (4)