« February 2004 | Main | May 2004 »
---
April 17, 2004
cooler than most
It's fun to play with OKCupid and take tests and learn about what they've decided you're all about. Apparently, compared to other women my age, I am less spontaneous than most, less old-fashioned than most, more loving than most, and less emotional than most. Sometimes I am also less ambitious than most and more methodical than most.
I am 80% romantically compatible with my brother, who also has a profile on the site. I am 83% compatible with my boyfriend. I am 96% compatible with myself.


File under DAILY. Posted at 12:00 AM



---
April 01, 2004
oops, missed march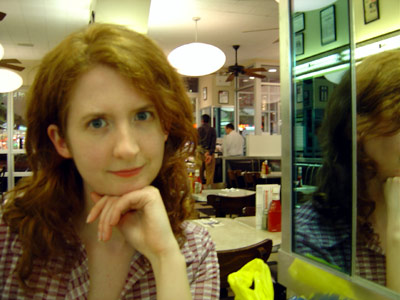 Above: losing my Jewish Deli virginity on the Upper West Side. I'm not sure how to classify the facial expression. It's just silly. At the deli, I tried a piece of tongue. Yes. I ate a piece of a cow's tongue. It looked like a slice of tongue. It tasted like nothing, but I was informed that it was a "bad piece," because tongue is allegedly very tasty.
Some things I had no time to write about last month:
I miss driving to work because it allowed for reflective solitude. My car was like a giant bubble that my head could float around in; it was an extension of my actual head. I can no longer sing out loud in semi-public without really annoying anyone. My best thinking-time, these days, occurs in the shower, and I unfortunately don't spend too much time there. On the subway I can't avoid watching people and bumping into them and shifting around in my seat to make room for them. It's a worthwhile tradeoff, almost; watching people is among my favorite things to do. Interacting with them usually isn't. Riding the subway is similar to driving in that people often think only of themselves, not realizing that things would probably go more smoothly if they thought about themselves as well as everyone around them. Sometimes, though, they do. On Tuesday I almost fell when the subway jerked to a start, and a stranger pushed on my back to keep me up. That was nice, even if he did it just so I wouldn't fall on him.
Also, I am slightly obsessed with the interior design of the various subway cars.
After a hellish trip to Queens, I, an idiot, unknowingly parked in a Police Zone a block up from my own. Then I didn't walk by my car for two weeks. Then I decided to walk by my car. Then I noticed it was gone. Then I found out that it cost $245 to rescue it and that I owed $800 in parking tickets.
Then I went to Queens again and couldn't find a good parking place when I returned and amassed another $90 in tickets.
I hate Queens. It ate my money. Sorry, Litza.
I bought an iPod, prior to the devastating drain on my checking account. It is great.
I have never worked so much as I have in the past four weeks.
It's been a rough stretch, but I'm feeling lucky lately.

File under DAILY. Posted at 12:00 PM