« October 2004 | Main | December 2004 »
---
November 30, 2004
watchin' the clothes go round
I am currently assisting Andy in doing laundry at an all-night laundromat in downtown Brooklyn. We are staying here to babysit the laundry while it is being washed and dried by super machines. This place is very huge and bright.
Here are the video games available at this laundromat:
- Marvel Vs. Capcom
- Ms. Pacman/Galaga*
- Some NEO-GEO arcade variety pack
- Cruis'n EXOTICA
- Smart Prize Time, one of those "use metal grabbers to not grab a stuffed animal" things. There is a Philadelphia Eagles pillow inside of this machine. I don't think even the best Smart Prize Time player should attempt to get that pillow. And why an Eagles pillow, here?
Here is what's playing on all of the TVs at this laundromat:
- A rap music awards show on BET. This is the only audible TV from where I'm sitting. A female laundromat employee occasionally sings along to the clips and performances.
- A show called "UR Inside the Locker Room" on some sports channel.
- Local news on a B network.
- City Hall, a 1996 movie about political corruption in New York City, on AMC.
---
Okay, Andy went to Walgreen's awhile ago and I saw him pass by the laundromat window on his way home, and he should be back by now, but he isn't, and I'm starting to realize that if something happened to him, I'd be in a really bad way in more than one way, because my wallet, phone, and keys are in his apartment. The only thing I have here is my computer. I guess I could use the internet connection to... send emergency e-mails to everyone I know. I hope he comes back soon. Oh, here he is.


* I am pretty good at Galaga.

File under DAILY. Posted at 11:25 PM | Comments (2)



---
November 23, 2004
the darker side of thanksgiving
The below is a transcription of a message I found on my answering machine yesterday. The message was left at 11 at night, and the caller sounded like he was in his 40s and might have been a little drunk.
Hi S-, uh, Susan, it's Stanley, um... it's Thanksgiving, uh [clears throat] y-you said you're going someplace? Whyn't you come up to my brother's with me? uhh? All right... [pause, then sort of fades out] talk to you tomorrow... bye.
I'm glad this guy has a brother's to go to, at least. Maybe his luck will change soon. But maybe he's not as downtrodden as he sounded; maybe he'd just finally worked up the nerve to call the coworker he's had a crush on for months. He should have called a little earlier, though, and he should have dialed the right number.
What if he did see her at work the next day and thought she was pretending not to have gotten his call? That could really mess with a guy, and I'm not sure this particular guy could take it. Though from the sound of his voice, it seems he's trained himself not to expect much.

File under DAILY. Posted at 02:11 PM



---
November 19, 2004
what it all is now
I have rented a car four times in the past two months. You might notice that that's a lot of renting! Before October, I had never rented a car. Now I am what they call a "pro renter," which is not the same as being a "pro wrestler," but is similar in that, like pro wrestlers, I wear a shiny leotard to each "match," or "rental."
Apologies for the above. I'd like to write more actual, meaningful things here, but I just have not had time. Let's see what else I have and have not lately, shall we?
NOVEMBER HAVES AND HAVE NOTS
I have...
... dyed my hair brown. It turned out dark red.
... bid farewell to Chris and Andy's stuff, as they have moved out of Steve's and my apartment into places in other parts of Brooklyn.
... started, but not finished, my Christmas list.
... discovered that food at Target is much less expensive than food everywhere else around here.
... been listening to my iPod again, after a not-very-musical existence (chalked up to the fact that it never occurred to me to put on music) the past couple of months.
I have not...
... done very much homework for my programming class.
... cleaned the apartment in a very long time.
... been eating enough vegetables.
... read enough books lately.
... made a colorful Thanksgiving turkey picture by tracing scanning my spread-out hand. Or HAVE I???

File under DAILY. Posted at 05:58 PM | Comments (7)



---
November 02, 2004
so it was halloween again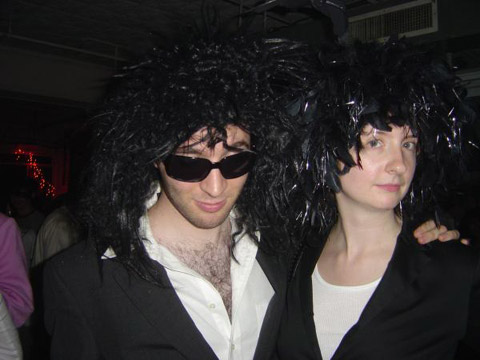 Here is a list of Halloween-ish things I did this past weekend:
Friday
First, made a pumpkin pie. Andy mostly made it. Everybody ate some because it tasted exactly like pumpkin pie, which we all love. Then, after a last-minute jaunt to Beacon's Closet for costume accessories, trotted out to Steve's company Halloween bash, which unfortunately wasn't what the doctor would have ordered, had I consulted the doctor about what to do for the evening. My feet hurt from my new hipster shoes, and my dinner wasn't sitting well with me. Andy and I didn't know what we were, costume-wise -- something in the vein of "rock star" and "girlfriend of rock star," or "two rock stars." We felt lame. We sat on a couch for awhile and didn't mingle much and left kind of early.

Saturday
Was planning to go bowling with Chris and his friend Kim, but they changed their minds, claiming worn-outness. Andy suggested making a movie, even though he wasn't really keen on the idea himself. But we made one. Chris was an Irish sea-faring guy, and I was a painter from long ago who haunted his house. The movie was about three minutes long and was just like Andy's home movies from childhood, which are all very amusing and precocious. But I wouldn't call this precocious in any way, because we're all pretty old now. (Aside: All of Andy's home movies are better than anything I ever did in film school, though that says more about my talents than his.)

Sunday
Went to the Amazing Maize Maze (whose name, Litza informed me, was coined by Stephen Sondheim) in Queens with a bunch of people. Andy and I almost beat a maze record, but we didn't. Chris and Kim each won books about maze making. And we saw farm animals running around and went to an overpriced, un-scary haunted house. We ended up at the beer garden afterward, where the autumnal air made outdoor late afternoon beer-drinking especially pleasant. Back at home, I learned there wouldn't be any trick-or-treaters, because they apparently only visit local businesses during daylight hours in my neighborhood. So I've been eating a lot of Reese's Peanut Butter Cups.
I may seem like I'm down about the way Halloween went, but I'm not, really; there's something about this time of year and the weather and the way Halloween and Thanksgiving are associated with warm colors (orange, red, yellow) that makes me feel homey and happy.

File under DAILY. Posted at 06:20 PM | Comments (3)