« January 2003 | Main | March 2003 »
---
February 20, 2003
snow bunny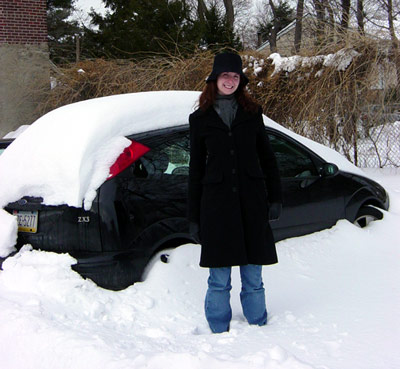 This is my car covered in snow and me getting snow in my socks. That was fun. This photo was taken shortly before my mom, roommate and I shoveled out my car and my roommate's parking spot (which is where I'm standing). During the shoveling, my mom said I was too skinny and told me to see the doctor. My roommate told my mom that yes, I do eat. My mom told me to pull up my pants (apparently she could see London and France). She asked if those were pants that should fit me, and I said, "Well, they're a size 9, and I'm a 7." My roommate said I look like I'm a 3 or a 1. This is what happens when you're tall. It plays tricks with the eyes!

File under DAILY. Posted at 12:00 AM



---
February 17, 2003
"I want to wash my hands, my face and hair with snow" (not really)
Due to numerous inches of snow, I haven't left my apartment since Saturday afternoon, aside from walking about 20 feet from the door to the trash bin yesterday.
Here is what I have to eat:
Pasta and overpriced sauce that I didn't realize would be $9 until it was too late. (The jar says it's from a restaurant in New York where even the stars wait 4-6 months to get reservations! I'm so priveleged. But yes, it's good sauce.)
Packaged scalloped potatoes.
Nothing else. I realized I could make tortillas, though. I just have nothing to put inside of them.
It has been a welcome two days of solitude and good movie-watching. Last night was perfect for taking in the magical and inspiring Celine and Julie Go Boating. I also watched Fat City, Serpico, and The Apartment as I tried to remove the wax with which my roommate somehow managed to damage three different parts of my rug during (I imagine) her Valentine's Day celebration with her boyfriend. Trying to salvage ruined home furnishings is so sexy and fun!
I should have worked today, but I didn't. On tap for tonight: more reading, more relaxing, more tea-drinking, and perhaps a hot shower before bed.

File under DAILY. Posted at 12:00 AM



---
February 16, 2003
debut
Last Wednesday I made my karaoke debut at the Trocadero in the Super Mecca Karaoke Smack Down. By the time Stephen and I went onstage to sing "We Built This City" by Starship, I had a few jack and cokes in me, and there was no room for nervousness. Historically, being on stage has been a release for me; nothing is as freeing as pretending to be someone else or presenting an exaggerated version of self for the sake of entertainment. It's just a rush.
Stephen wore bad '80s clothes, and I wore a cheap hippie shirt from H&M and the sunglasses from this photo. And pigtails. Unfortunately, I don't think there are any photos of these getups. We sang, and I felt like we sounded pretty good, and I'm still reasonably certain we did. But just past the second verse, we lost our place in the song; Stephen had been dancing with the judges during a musical interlude, and I had been watching them all, amused. The audience started to boo. A couple of people yelled, "Take it off!" Stephen took his jacket and tie off; I removed my sunglasses. The judges gonged us off the stage, or rather whipped us with some sort of leather sex toy.
Later, when I was dancing my nerdy dance moves in front of the stage to some other karaoke-er, a chubby fellow who was walking by laughed when he saw me and said, "You were fabulous." It made my night to think that someone had appreciated it. After all, being fabulous is the whole point of karaoke, isn't it?
As the evening wore on, I talked to some people who I may or may never see again. People on stage put their microphones to my mouth and let me join in (maybe to get me to stop dancing like a dork?). I danced with a guy dressed like the Whammy from Press Your Luck as well as bunch of girls, one of whom had done a great rendition of Hall and Oates' "Private Eyes" wearing an eye patch and a pair of shorts with an eye painted on each leg. (Stephen and I kicked ourselves for not thinking of Hall and Oates for our duet.) As the Private Eyes girl was leaving, we went up to her.
"Hey man," I said. "You rock." I gave her a thumbs up. I give the thumbs up sign way too much.
"You guys were robbed," she said. She stood there, waiting for me or Stephen to say something else, but there was nothing else to say.
"Have a good night." I said, and smiled and saluted, and she left.
On Thursday, my head throbbed, and Starship's stupid tune and stupid lyrics ("knee-deep in the hoopla," "Marconi plays the mamba," "someone's always playing corporation games") plagued me. It was absolutely worth it, though.
I've decided that next time I'm going to sing the Divinyls' "I Touch Myself."

File under DAILY. Posted at 12:00 AM



---
February 04, 2003
Reviewing some superficial news as I wait for frozen pizza to cook
Today:
Bought underwear at Target. Almost bought cheeky early '80s-style jogging short underwear, but then realized that it might look stupid under my clothes. But it was tempting.
Had my portrait painted by watercolor students. In some of them, my face looked bloated and bruised. In some, I looked like a wan old lady. It was sort of humbling, probably for the students as well as for me.
Broke my McDonald's boycott. Oops. Must not do that again.
Just realized the glass I'm drinking iced tea out of is really dirty and gross. Ick.
Yesterday:
Drank way too much when I went out for drinks/dinner with Stephen, his cool coworker, and his cool coworker's cool wife. Ugh. But I had fun, up until the point where I felt really sick.
Last Week:
Went to the Tiki Bar (whose site "is all about good times and is not meant to annoy anyone in particular") in Earlville with Greg and took a couple of Lomos. That place is great.
Saw Bonnie Prince Billy at the First Unitarian Church. It was pretty good. Liam was there, but we didn't really talk.
Went on a date with someone I met on The Personals. It was fun — he's funny, he works in the film industry, and he's a fan of (or at least is familiar with) In Search Of... with Leonard Nimoy, which delighted me — but I suspect we aren't really each other's type, and I also suspect he isn't looking for a "just friends" scenario. Or maybe he is and he just really didn't like me. Ah well, such is life. With my unusual relationship history, I've never really gone on dates before, so it's a learning process.
Was crazy-busy at work. Hands-shaking-next-to-head (to indicate "cuh-razy") busy.
Finally, the pizza is done! Mmmm.

File under DAILY. Posted at 12:00 AM



---
February 02, 2003
[for those who fear...]
For those who fear the space program will be halted or slowed, there is good news. My dad is helping to develop a reusable launch vehicle — the X-37 — that will replace the space shuttle. Someone from NASA called him yesterday to tell him that the Columbia tragedy will not deter work on the program, and that, if anything, development will be accelerated.
It's weird to think that Dad knows the engineers who worked on Columbia. I sympathize with them and with the families of the shuttle's crew members.

File under DAILY. Posted at 12:00 AM