« March 2006 | Main | May 2006 »
---
April 20, 2006
i won a bike
A few months ago I made a resolution to enter more contests. At the high school where I volunteer, I've been spending most of my time creating a guide to scholarships that might particularly interest the students, and it's made me think about how I might have been able to afford to go to a college better suited to me if I'd only applied for more scholarships. But I didn't feel like scholarships were worth my effort. I was fine, but I wasn't the BEST. Obviously someone else would win. This was a stupid way to feel (and if you're in high school, a) why are you reading this site and b) apply for as many college scholarships as you can, because most of them require the same information, and you really DO have a shot at winning). Anyway, I have always felt similarly about contests, thinking I am probably not the type of person they want to win (wrong age, wrong weight, wrong location, etc., depending on how they want to use the winners to advertise), so I won't win. But that's dumb. Why couldn't I win? Why WOULDN'T I win?
So in the past couple of months I've entered an essay contest from American Eagle to win $25,000 to realize my dreams, another essay contest sponsored by a few companies I'm not going to name right now to win a free bike in order to improve my lifestyle, and a couple of online contests of the "win a house/beach vacation/wine tour of Italy" variety. Also, my brother has me playing the lottery regularly (I'm not sure whether this counts, though, as this kind of contest comes with some guilt, because it actually costs me something). I did NOT enter the Bluefly/Lucky Magazine "It-Bag-A-Day" contest because most of those bags are seriously ugly. But you can by going here.
I didn't win the American Eagle contest (but I did get a unisex necklace as a consolation prize), and so far I haven't won anything else... until now. This morning I checked my e-mail and learned that I won a bike! As you already know from reading the title of this entry! I thought it was spam at first. But no; I actually did win, and my likeness, motion image and voice actually may appear in a variety of media. That's all I'm going to say right now, because I'm not sure that I'm allowed to say anything at all (I will be receiving more details about the "lifestyle program" that I think I've committed to, uh, doing, and the award ceremony over the next couple of weeks). There is a big smile on my face, though. And here is the bike (or something like it):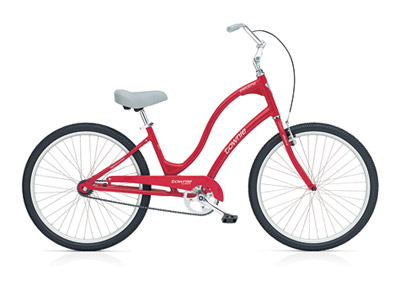 Pretty crazy, huh? And pretty rad! A new, improved, biked-out me will soon be spotted rolling around Brooklyn. And maybe some other boroughs.
Special thanks to my bike-obsessed brother for getting me to enter this one.

File under DAILY. Posted at 02:12 PM | Comments (5)



---
April 18, 2006
and while we're at it, makeup
I am at my parents' house this week for three reasons:
I'm selling my car to my aunt and need to get it in reasonable shape.
Andy is in the area performing some performances. I haven't seen him yet, but I'm planning on it tomorrow.
My parents are also performing in this year's St. Francis production of Anything Goes, and, of course, I should see it.
Being at my parents' house means that I've been watching a lot of television, or at least sitting in front of the television a lot. It makes me feel soiled to have seen what I've seen so far this week. It's not that I've been watching anything unwholesome, it's just that it seems wrong that the scroll (or scrolls, assuming each channel has its own scroll, and I'm picturing an old-fashioned scroll here) of uninspiring junk has no end.
So anyway, last night my mom returned late from dress rehearsal and I was watching a makeover show called "How Do I Look?" on the Style network. The show has two friends and one stylist each go shopping to craft three distinct lines of clothing for the makeover victim. Then the victim chooses the line she likes most and gets her hair and makeup done, and voila. If you want to watch this, it will use up one hour of your life. Unfortunately, like most television to a person who hasn't watched television in a long time, it's strangely compelling. Also, as you may know, makeover shows are made of stronger glue than much else on the air because of the stupid suspense of whether the person/room/garden will look better at the end. I am able to turn off the ones about gardens, usually.
So it's midnight and Mom and I have just watched the last ten minutes of an episode of "How Do I Look?" when another one comes on. We decide to watch it, not realizing it's going to prevent us from going to bed for an entire hour, but it's fun, because we pretty much have the same opinions about what's happening on the show. Then, during the part where the host is showing makeup selections that one of the makeoverers has selected for the makeoveree, my mom gives me an important life instruction, one she occasionally repeats as I inch toward full-fledged adulthood: "You're going to have to start wearing makeup soon."
I may have written about this before, but I took ballet lessons for a number of years as a kid, and for many of those years, I always wanted to miss a class so that I could take a makeup lesson. I honestly thought that I would get to wear makeup at a makeup lesson, and I routinely fantasized about being able to do this, picturing the lesson as a nice small group of a girls who had missed their more boring normal classes, applying eyeshadow and lipstick and blush (and possibly even putting on fancy costumes) before practicing their steps. I envied the girls who got to take these lessons, and the lessons themselves seemed mysterious to me because I never heard anyone talking about this other special aspect to them. I thought that perhaps the girls' mothers had told them not to talk about it so that no one would feel left out of this specialness. Of course I was always disappointed when I went to a makeup lesson and there was no makeup to be found. But I figured that the non-makeup makeup lessons were an anomaly, that next time there would be a makeup portion to the class. When I eventually discovered the much less glamorous meaning of the term, it saddened me to think that the possibility to realize my makeup fantasies had never even existed.
But now -- and I reserve the right to retract this later -- the idea of regularly wearing makeup seems ridiculous to me. I should line my eyes with a pencil? And put colored powder on their lids? Where do I go that demands that I do this? I understand, to a degree, why we might do this for special occasions, adding punch to whatever visual effect for which we're aiming, but my daily life doesn't require much punch, and my eyes are standing out just fine on their own (or at least enough for people to find them when they're conversing with me). Anyway, I touch my face way too much to be able to get away with this kind of thing. And my skin is too sensitive. My mom seemed to accept this last reason, after rejecting a number of others. At least she doesn't think I need a total makeover. Though she did suggest that I apply for the show when I said it would be nice to get all of those free clothes...

File under DAILY. Posted at 09:56 PM | Comments (3618)



---
April 16, 2006
filet of fashion
Sometimes I think about starting a site devoted to my thoughts on current fashion trends, because I think about fashion a lot and because it is a safe, sort of removed-from-my-actual-life topic. Not that anyone is reading this site anymore. And if you are, well, I'm sorry that I never update it. As I mentioned in the previous entry, I honestly do want to give the site a makeover and write more here. But it's hard to get back into it after not doing it for a long time, and I don't know how much I feel like saying about real topics, though I don't particularly care whether people know how I feel about real topics, and I'm also not really sure what qualifies as real topics, anyway.
I guess I don't want to be too whiny or boring and I feel like there's a risk of becoming both of those things if I only talk about myself and my struggles with trying to make my life more meaningful. (Still, I probably will write about that stuff at some point.)
So here are some cursory thoughts on The Fashions Of Today. Were I actually to have a site about this stuff, I would probably become tediously analytical about all of it:
I think last year was a particularly bad fashion year and we as a nation, or at least as a northeastern region, are starting to recover.
For instance, I am glad that those gypsy skirts aren't our exclusive skirt option this season.
The long tailored shorts trend is fine.
Tapered cigarette jeans are unflattering to most figures. And when the pairs I try on are too long even for me, there's something bad going on. Don't get the skinny jeans unless you're 6'1" and also a model. Or unless you find a short enough pair and have no hips. And by short enough, I mean no three inches of scrunching at the bottom.
Black leggings are not cool and are not going to last.
H&M has been disappointing for almost two years, even if I'm still able to find a few decent things (particularly basics) there. It just seems to take more effort to find something that's fun and not trashy these days. Come back, H&M. Forever 21 hasn't been able to pick up your slack adequately.
I am guilty of having worn long tunics over jeans, but this is risky behavior and should be practiced carefully.

File under DAILY. Posted at 12:12 PM | Comments (5)