« July 2006 | Main | September 2006 »
---
August 21, 2006
prismatic
I feel like this trip is something that won't be able to be reflected upon at length or with any insight until I'm home; currently it's hard for me to come up with anything to say about it. We've seen many live performances by now, most of which have been somehow entertaining, if not very good, and I've been greatly enjoying going to screenings of movies from the 1970's, most of which I'd never heard of. Last night we saw Electra Glide in Blue. It was pretty awesome. The aforementioned Little Murders is tomorrow and I get a bit giddy every time I think about it.
See, there used to be a television channel in Philadelphia by the name of Prism. It was a premium channel for people who wanted to be able to watch local sports broadcasts. Naturally, my family needed this channel so that no Phillies games could be missed. (My dad will tell you that at the time he signed up for it, local channels had stopped putting Phillies games on TV for some reason, so Prism was the only way he could watch any of their games at all. Short of going to the stadium, of course.) What the Wikipedia entry fails to mention is that Prism had a slim lineup of very unusual (i.e., inexpensive) movies that it would play regularly in the daytime. So, during high school I became obsessed with the following movies, and possibly may have decided to study film, thanks to this particular station: Diary of a Mad Housewife (1970), The Effect of Gamma Rays on Man-in-the-Moon Marigolds (1972), Little Murders (1971), and Denial (1990).
I would recommend all of the above except Denial, which seems to me now like the writer/director's unskillful working through of a hard break-up and extreme self-image issues. For the sixteen-year-old me, it was so weird and fractured as to be moving, and I could relate with the self-image stuff. I knew it was a very bad film, but it was also strangely compelling and lyrical, and so I loved it with some shame. The rest of the list are somewhat bizarre documents from the early 1970's, and they all did a great job feeding my hunger for anything 70's-related. These I also found strange and moving and magical; they were unlike any films I'd seen before in both story and presentation.
Back on track: We're trying to figure out how to spend the five free days Andy has between the end of the Edinburgh run and the beginning of the London performances (August 29-September 3). We're thinking of maybe touring northern Scotland... which I think would involve renting a car, which would involve me driving on the wrong side of the road. (I think I'd fare well enough; last night during the movie, cars were on the proper American side and I thought it looked wrong. But of course watching something and doing it are very disparate activities.) We could also just go to England early. Suggestions are welcome.
In other news, I just finished To the Lighthouse and am still feeling depressed about how good it is.

File under DAILY. Posted at 06:17 AM | Comments (5535)



---
August 15, 2006
photos von andy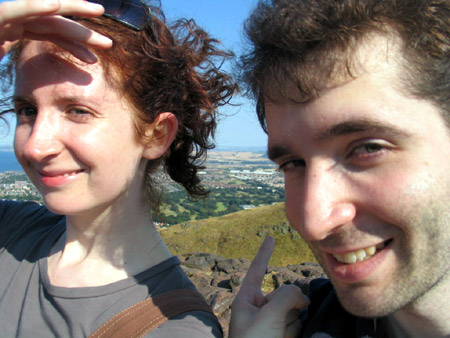 Here we are at the top of Arthur's Seat. (I made it, Steve, but the weather was definitely on my side.)
I took the picture above, but I've been a lazy photographer so far this trip, and I will probably regret it later. Since Andy has been more diligent about documentation, I invite you to get a partial sense of our Scotland experience by checking out his photos.
Now we're off to see some sculptures of giant people by Ron Mueck.

File under TRAVEL. Posted at 05:51 AM | Comments (540)



---
August 07, 2006
edinburgh so far
We arrived in Edinburgh almost exactly one week ago, and for the first couple of days, we were pretty out of it. Even now, my body wants to sleep for nine hours every night. But this is not interesting to you. I think I'll just share some observations in the order they occur to me. This is going to be disjointed; sorry.
We have a nice little flat here. It's very bright, with large windows and high ceilings.
Food is expensive. Books are particularly expensive. But book covers, on the whole, have much nicer designs than the ones in America. I was disappointed, however, that the cover for A.S. Byatt's Possession here is possibly even uglier than the one back home. I have not yet read that book mostly due to its unappealing cover.
People here don't walk around talking on their cell phones in public. I actually don't know why this would be, unless they simply don't use phones as often. Anyway, when I've done this -- particularly when I've done it in a grocery store -- I've felt very rude and American. The locals also don't walk and eat at the same time, which is polite of them, and which I've also done here already.
Almost all restaurants stop serving food at 10 p.m., which has been inconvenient. People start drinking at noon here, and pubs are full from then until closing time. I would like to have a beer in a new pub every night, but traveling with a large group makes for a lot of compromising.
I'm not sure how accurate my impressions are, because they're based on observing people who may be tourists. Since it's festival season, the city's population has, I think, tripled, but most of the outsiders seem to be from England.
One tourist, though, was from Vienna. Andy and I were walking to the park Saturday evening when I spotted someone familiar sitting on a bench, apparently looking at me. She didn't say anything, and so I stared back, trying to figure out if it was really who I thought it was. I almost had convinced myself it wasn't her, but then I decided to risk it: "NICOLE?!" (Nicole and I went to high school together, and she's been living in Vienna since she graduated from college.) By the look on her face, it seemed, amusingly, like she wasn't very happy to see me, but she responded, and I sat down to chat. (I think that she had written me off after I didn't spend time with her when she visited New York a couple of years ago.) She was, I found out, on a short tour through Belfast, Edinburgh, and London. We ended up seeing a stand-up comedy show later that night after catching up over a drink. I felt a little bad about interrupting her solitary excursion; I can imagine how it might have thrown me off, at least at first, if I'd been traveling alone and had been obligated to spend time with an old friend unexpectedly. But she seemed to enjoy herself enough.
For me, running into Nicole was invigorating. I'd had a pretty lousy week up until the weekend; I was essentially living my Brooklyn existence in a beautiful castled city, sitting in front of a computer and managing clients. I wasn't able to dial up what I consider to be the best part of being on this type of trip: the ability to envision myself as living another life in an exciting new place. I wasn't able to let myself be overcome with wonder or charm. Everything was frustratingly normal. So when I met Nicole out of the blue, I felt that at last something had actually happened, that being here would end up being memorable.
Also, I now have a walk-on spot in Andy's show, at least temporarily. I am the "house manager," and I bring a meowing bag back from offstage and place it on the floor. Though this character doesn't have any lines, I feel like my interpretation of the role is strong. In my portrayal, the house manager is annoyed that she has to deal with the bag. Everyone told me I did a great job. Hopefully at some point the actual staff backstage (a rotating crew of teenage girls) will be able to do this. One of them messed it up before, which is why I've been called to the rescue. I also sell CD's and scripts after each show. I have sold one CD and zero scripts.
We've seen a few shows so far, but nothing exceptional. Well, Harry Shearer's show with his wife was exceptionally embarrassing, unfortunately. But there are plenty more live acts to see ($$$, ugh) and there's a film festival coming (Becca, they're showing Little Murders!), and there's also an art festival going on, and there are some cool-sounding ghost tours of the city, and there's that castle, and so, hopefully, my workload will dry up and I'll be able to be a true tourist for a good bulk of the time. I can make up the money later, probably.
Pictures to come.

File under TRAVEL. Posted at 07:12 AM | Comments (5629)