« October 2006 | Main | December 2006 »
---
November 29, 2006
it's actually about clothes
After Europe and moving and furniture buying, my Excel spreadsheet of projected expenses was beginning to dismay me. I haven't been this financially unstable since graduating college, and it's a little strange to keep having to remember this, because I've come to think of myself as someone who exists in a certain comfortable economic place, a place where I can occasionally buy a $160 pair of jeans, obscene though that price tag may be, without thinking twice. (Buying designer jeans is a little bit like going to a chiropractor, in that after you've done it once, you will always need to go back for more. At least, this is what I've heard about going to a chiropractor.) But this sense of comfort is now a lie; I must, in fact, think twice, so that I can come up with good rationalizations like, "Look, you've been wanting jeans with that kind of back pockets for so long now. Just get them."
So I applied for and got a part-time job as a "web consultant." It's one day per week in the office of a medical research foundation. In theory this sounds perfect; I will get to interact with people in person, in what I hope is a more rewarding way than I do when I volunteer (I won't get into that, except to say that I'm hoping to volunteer elsewhere next school year), and yet I'll only have to do it once a week, so there will be enough time to focus on other work, too.
The problem now is that I have only about two appropriate "business casual" outfits and one pair of appropriate shoes. This is what happens when you exist in a land of designer jeans; you lose touch with business casual. When I was trying on clothes for my interview, I discovered that things I thought fit me actually don't. Apparently pants that are too short used to be okay with me. Absurd! Anyway, I think I'm going to take this as an opportunity to introduce more skirts into my wardrobe. And maybe some nice boots.
Okay, I will stop talking about myself now, for now.

File under DAILY. Posted at 08:26 AM | Comments (5)



---
November 22, 2006
our old house
The apartment has been something of a full-time job for me these past couple of months. As I mentioned to a friend the other day, I'll be glad when I don't have to think about it all the time anymore. Some people have told me I don't have to think about it all the time, but I unfortunately inherited a particular gene from my mother -- HDG (Home Decorating Gene, not to be confused with HGTV, my mom's default television station) -- so this advice is useless. My friend (I'm not sure why I'm not naming the friend, but I've been feeling more private lately) said that if she knows me, the apartment tweaks will never end, they'll just get smaller and less urgent. This is true. I just can't wait until things get to a point of being "done enough" so that decorating can be fun again.
Also there's a huge list of non-apartment stuff I want to do. I found an artist whose work really makes me want to paint. It also makes me think, "I wish I could afford to buy some of these for my apartment. My apartment could really use some nice art."
I also want to write an amazingly good novel and make all of my own clothes by hand, in case I haven't mentioned this before. I would also like to have a lot of money. Thank you.
At least some progress has been made on our new dwelling. We spent last weekend painting the living room, and the only thing left now is putting on a second coat and hoping that our taping job (okay, my taping job) was sufficient. And touching up all of the mistakes. Oh, and completely stripping, cleaning, and re-staining the fireplace. Some photos: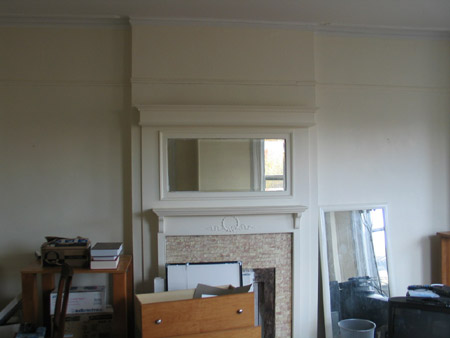 This is the closest thing I have to a "before" photo. You can see that the walls are a yellowy-white color, which doesn't look so bad here, but which actually is a bit ugly and sickening.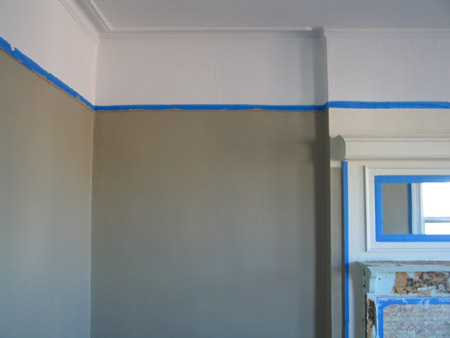 So, we decided to put plain old white above the molding and a color called "Berkshire Beige," which I've been describing to people as "grayish taupe," below.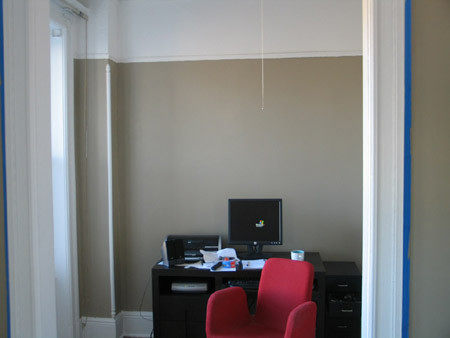 This is my office, which acted as a test room for the main area. Our taping work in this room received an I for Improvement Needed, so I spent about four hours taping the living room very carefully. One problem is that previous painters did some appallingly sloppy work (which will now look like our own sloppy work). Another is that the top molding is coming off of the wall in numerous places. But it still looks pretty sharp. Isn't it just crying out for some nice big art, though? (And maybe a different chair? Hmm...)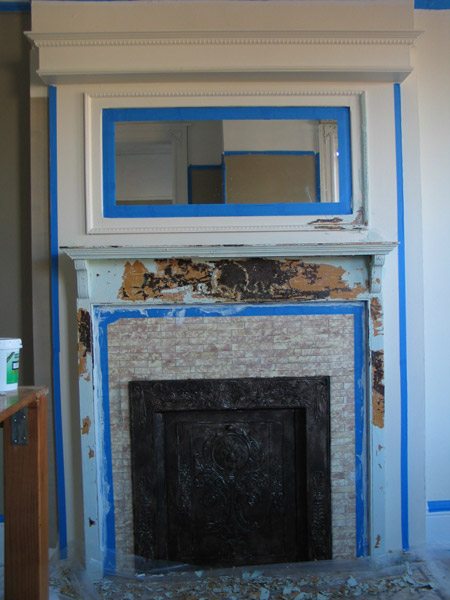 And this is the fireplace in progress. It's going to take a whole lotta precious time to do it right, child, but we will, and then it will look lovely.

File under DAILY. Posted at 11:27 AM | Comments (4)



---
November 13, 2006
special thanked
I've been thanked twice recently in print, and I must recommend it (getting thanked, not thanking me, though your thanks are always welcome) to everyone, because it's satisfying.
Most recently, I was thanked by Andy in the booklet for Andy's very talented ex-roommate and Broadway Idol winner Jac's show "You Don't Know Jac" (a title jokingly suggested by Andy). Andy is playing the piano for this show. I am not doing anything for it. So I just got a free credit for my thank bank (a lame term I just made up and honestly don't like very much). Next time someone doesn't thank me but should have, I can just deduct it and then everyone will be even.
Anyway, that was nice, but it wasn't as neat as being thanked for helping with a cover design in an actual book that people will actually keep in their homes. My former coworker Greg and his wife Jennifer recently published a recipe book based on Jennifer's great blog Vegan Lunchbox, in which she prepares tasty vegan creations for her school-aged son's lunch. I recommend that you buy this book for anyone interested in making healthy, delicious dishes for their children or themselves.
And because I think the design process is usually pretty interesting, I'll share my small piece of this one with you: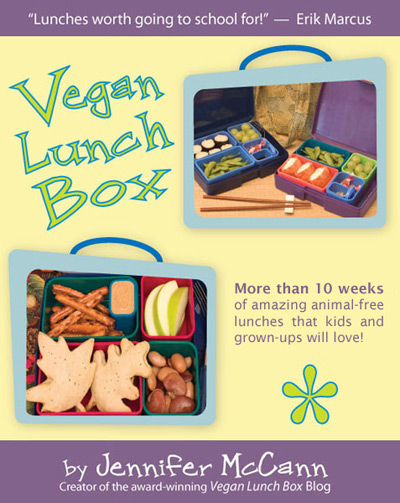 This is one of the covers (by Greg) the McCanns were considering when Greg contacted me to get my thoughts. The purple seemed a little heavy to me, so I played around with the design in Photoshop and ended up with...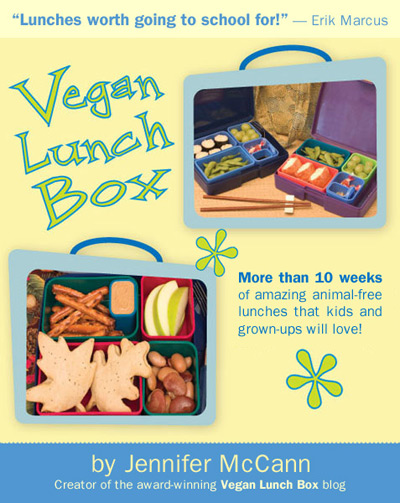 ... this, which incorporated a tiny scalloped edge into the bottom area and focused more on the blues and yellows used elsewhere in the design. I also recommended that the title font be used purely for the title so that it had more punch. I had a lot of fun playing with this, as I have secretly always wanted to design book covers.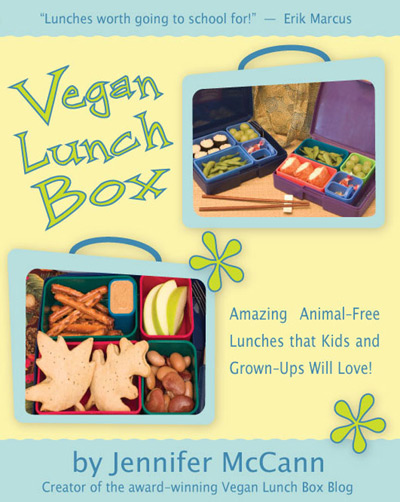 Greg's finished product: friendly, bright, and appealing. The scalloped edge idea was developed and extended to the top bar as well. Nice work!
Thanks for thanking me, you guys! When my overwhelmingly popular book that I haven't yet written comes out, I'm going to thank everyone who's had to listen to me talk about how I really should write a book and I don't know why I just haven't done it yet, I guess I'm just afraid that it won't be good and I know I'm totally pathetic but I need to focus on making money right now because there's this chair I really love and it's like a thousand bucks.* So get ready to look for your name.
* I promise that the annoying run-on technique used here will only appear in my book once or twice.

File under DAILY. Posted at 05:31 PM | Comments (1)



---
November 01, 2006
being like a blogger
When we moved into our new place, Andy told me he wanted to make a big map of our neighborhood, marking and writing up all the nearby places we visit, like restaurants and the laundromat and grocery stores.
I was hoping to find a website that would let us do this so that I wouldn't have to create some unwieldy, pencil-smeared thing on newsprint. And then, in the uncanny way that the web will sometimes lead you to the place you were meant to be, sort of like when you're driving and not really paying attention and then seem to arrive at your house by magic, the internet tonight dropped me off at CommunityWalk, a site that lets you mark up a Google map of your neighborhood with handy notes. You can also search other people's maps of your neighborhood and see what they're saying about stuff, if they've chosen to make their maps public.
So, it's cool and I think you should check it out if you're at all inclined to make a reference of things in your area.

File under DAILY. Posted at 08:21 PM